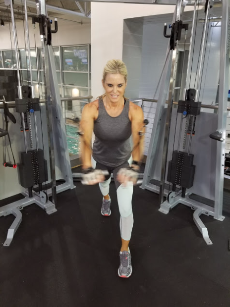 Autumn Fitness and Fall Recipes 
Hi fitness enthusiasts, 
There may be days when we wake up and want to skip our workouts, maybe because we feel too tired, or we think we have so many other things we could do; or we are just plain too burnt to even think about putting our mind and bodies through another rigorous workout.
Here are a few helpful steps to fuel motivation:
You will feel empowered and amazing after you have completed your workout.
Remember why you started working out in the first place.
You will regret not working out, but you will never regret your workout.
Change up your workouts – classes and personal training help with this.
Stay accountable with a trainer and/or a workout buddy.
Set goals.
Reward yourself with a massage, new fitness shoes, new fitness clothes, a new playlist
and most of all, know that daily exercise helps ward off diseases and gives a multitude of health benefits, keeping you years younger;
Please
click to enjoy
this article about motivation
.  And in this email I have given you a Halloween workout and a great one-pan recipe I recently tried.  Stay positive and committed to your health and well-being. Consistency is key!!!
Love, Jennifer 
Halloween Workout 
This circuit is meant to do 3 – 4 total rounds. For beginners 1 – 2 rounds. Each exercise is 45 seconds, unless otherwise specified. 
You can do this at home with an exercise tube (band) for your convenience.  Remember to drink plenty of water, before during and after exercise. Make sure you stretch after completing your  session.  Always check with your physician before beginning any exercise program.  Have fun!!!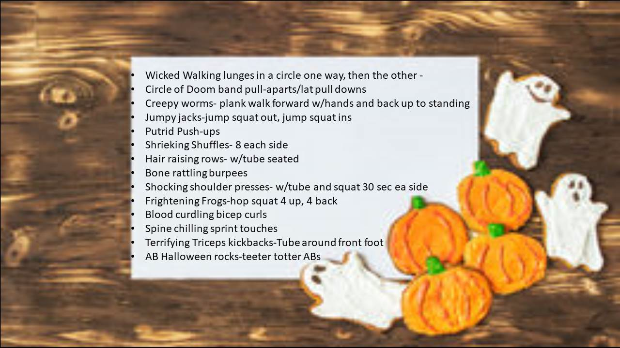 Autumn One-pan Chicken Recipe
My husband and I thoroughly enjoyed this fall inspired recipe last week. We had enough for a couple of nights of leftovers. I also fed it to my four-year-old granddaughter, and she loved it, as it combines the sweetness of apples and sweet potatoes along with the savory taste of the chicken.   I gave a healthy spin to it by using skinless chicken breasts and replacing the bacon with nitrate free turkey bacon.  It really did taste delicious.